This is a very special sanctuary run by Barbara and Bob to care for FIV and FelV cats. Over the years we have developed a close and happy relationship with them and two of our "rescues" are now living and thriving at Catwork



Lenny and Georgie

LENNY was abandoned by his owners when they moved. He was taken to a local veterinary practice by a neighbour, where he tested positive for FIV. Two of the resident vets disagreed about what should happen to him. One wanted to put him down but the other one was determined to help him. Fortunately she found Catwork and Barbara and Bob agreed to take him in to save his life.

He is young, healthy and lively, and loves his food.
GEORGIE was born to a stray cat on a caravan site in the north of England. The site owner was feeding and caring for her. It became impossible for her to stay there safely but the site owner was determined that she should be given a chance. . Again, she found Catwork and Georgie joined Lenny there and they became good friends.

They are very relaxed and happy now playing together in their protected environment. They have lovely temperaments but remain nervous. They are a great joy to Barbara and Bob but sadly visitors rarely see them as they hide away when anyone they don't know appears!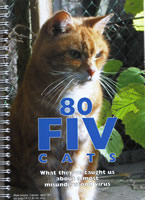 Barbara and Bob have written a book. It's called "80 FIV CATS : What They have taught us about a most misunderstood virus"
FIV cats can live long lives. However, it is imperative that animal rescue groups and individuals deal properly with the FIV cats that come to them.

Barbara and Bob wrote this book to pass on the knowledge they have gained over many years. They hope that anyone who has dealings with, or responsibilities for, FIV cats, will read it and realise that the cats who have this virus deserve just as much help and understanding as any other rescued cat and that they should not be put down simply because they have FIV


'
1000 FIV cats' project

This ground breaking project is an extension of their book
There are many misunderstandings about the realities of living with an FIV cat, so Barbara and Bob wanted to collect as much real-life experience as possible. They put out a call to anyone who owns now, or has owned in the past, an FIV cat, and asked them to tell what it is really like to live with one.
Although it will take a while to reach their target of 1000 FIV cats, they are over half way there with well over 500 listed so far, from all over the world, each with their own story, and the experience of their owners, who were often new to the subject when they found their cat was FIV positive.
To see more details and see the cats already listed, please visit
www.fivcats.org