True feral cats are the offspring of stray or abandoned domestic cats. They live wild and have little contact with people. They fear humansand keep well away from them.
They are regarded as pests by some but farmers and the owners of riding stables value their ability to keep the rodent population under control.
A healthy feral colony is more likely to reduce vermin to an acceptable level. Contrary to the widely held myth that hungry ferals make better hunters well fed ferals have proved to be more effective.
Neutering is beneficial to their health and helps to control the size of the colony. Whilst they are sedated the vet can check their health and treat them for parasites.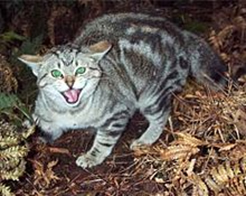 C.L.A.W.S. is one of a small umber of cat rescues that help feral cats.
We arrive at the colony and start trapping. This can take some considerable time depending on the number of cats in the colony and how "street (trap) wise" they are.
Intelligent cats get to know the sound of the trap and, even when it is baited with pilchards, resist the temptation of this delicious food.
After a failed attempt it is necessary to leave a 2 /3 week gap before trying again.
Once caught, the cats are blood tested for FeLV / FIV. If the test is negative they are neutered and
vaccinated and returned to the original site or moved to a more suitable location.
Here is an example of the work C.L.A.W.S. undertakes with feral cats.
Three male cats and a mum and four kittens were causing concern in a builder's yard in Woodley. The foreman was all for "getting rid of them" but the other employees, all big burly men, were concerned for them, especially the kittens. They said rightly that as soon as they started to move about they would be in danger of being run over by the lorries which were in and out of the yard all the time.
It was agreed that the cats should be trapped. When told that they must not be fed the men were appalled ! But it worked ! Two traps and two lots of sardines in tomato sauce and two of the males were caught. The normal routine was resumed for a few days and then by repeating the process the other male was caught.
The mummy cat had made a nest under planks of wood that provided a lean to against a wall. Very gently and quietly the men had been blocking off any escape routes. When the C.L.A.W.S. volunteer arrived mum was feeding the kittens. Once they settled down for a nap she was able to catch all four of them. Then she set the trap for mum. Reticent at first,
anxiety for her babies and the lure of sardines did the trick. All seven of the cats had been successfully trapped.
They were blood tested, neutered and vaccinated. The three males were re-homed on a farm. The four kittens were found homes, two of them with one of the men who worked in the yard. Even mummy cat remembered how nice it was to be loved and cared for and was found a loving home.
C.L..A.W.S. makes no charge for this service.
Please help a homeless cat this winter by providing shelter in your shed, porch, garage or a kennel.
A box lined with straw or a blanket, a bowl of water and a dish of dried cat food will help it stay warm and healthy.
FOR MORE INFORMATION PLEASE CALL SUE ON THE C.L.A.W.S HELP LINE
01189 341699