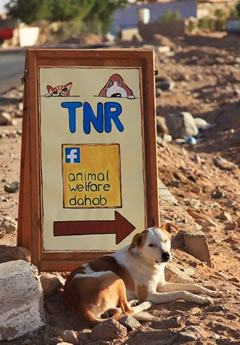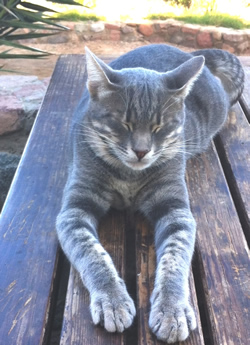 C.L.A.W.S. neuters its cats and kittens and those of members of the public, subject to certain parameters. This is part of an overall strategy to promote healthy cats, limit the number of kittens born and encourage owners to take responsibility for their animals.
Research has shown that it is safe to neuter kittens as young as 4 months so C.L.A.W.S. took the decision to keep kittens in care until that age and neuter them before re-homing them. In the past kittens were offered for adoption at 12 weeks.
Without neutering the UK's cat population would spiral out of control : already overpopulation is a major issue as it increases feline infectious disease, stress related problems and fighting.
One un-neutered female cat can be responsible for producing 20,000 descendants in five years.
Neutered male cats :
Are less likely to wander far from home
Are less likely to fight which reduces the risk of them contracting diseases such as FIV (feline immunodeficiency virus or FelV ( feline leukaemia)
Are less likely to spray
Make friendlier pets that are more likely to stay close to home
Neutered female cats :
Cannot become pregnant
Do not "call" as un-neutered queens do and thus do not attract every tom cat in the neighbourhood. Less disturbed sleep for the owners too !
Are less likely to contract FIV and FelV spread by bites and mating
Are unable to develop cancer of the ovaries and uterus. There is also a greatly reduced risk of developing mammary cancer, especially if neutered early.
You can see that neutering has many health benefits, as well as helping to reduce the number of unwanted cats in the UK. Therefore it is great news that .individuals in other countries are also working towards implementing a neutering programme.

Ann has observed the development of one such initiative in Egypt as you will see from her report:

I have been holidaying in Dahab for 8 years now and staying at the Bedhouin Moon Hotel where Gilly from South Africa works as manager and friend to all who visit.
During all this time there have been cats at the hotel and they could be a nuisance at meal times. The Bedhouin Hotel's owners did not approve of the cats, partly for that reason, and would occasionally have a round-up of them and take them to be dumped elsewhere or have them poisoned.
But they did not reckon on Gilly ! She began feeding them very early in the morning before the guests were around and making sure that they were well fed so that they wouldn't be so hungry and therefore less of a nuisance. The owners really disapproved of her doing this saying she was encouraging them. But she persevered and also provided water spray bottles at each table so guests could spray them if needed. (Now the cats quickly disappear at the very sight of a spray bottle !
Slowly, through reading feedback from guests, the owners realised that the cats and Gilly were much part of the enjoyment of being at the hotel – both encouraged repeat visits "to see the cats". On the hotel's Facebook page they are very much the topic of discussion pretty well every day.
So matters began to change and Gilly had worked her magic ..................... there has now been a new development. Cogges, the vets based in Witney
(httpss://coggesblogges.wordpress.com/
visited and set up a neutering programme in conjunction with
https://www.facebook.com/AnimlalWelfareDahab
(See their Facebook page to read all about it}
On their first 10 day stay they treated 128 animals. All the Bedhouin Moon Hotel cats were trapped and dealt with also other ferals around the town. The initiative has been supported by the mayor (who has also set up meetings where the local women can meet and have a voice in their health and social concerns}
The vets are now giving talks with a pointed message about not poisoning the cats. They all hope that the programme, combined with education, will result in a happier and safer life for all the cats in Dahab.
(They also treat the wild and domestic dogs}

______________________________________________________________________________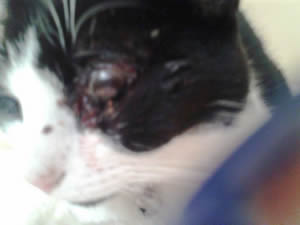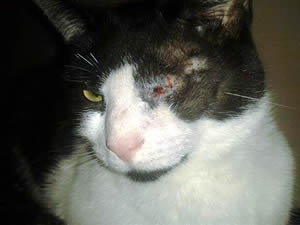 Marmite after she was shot Marmite on the mend

THE NUMBER OF INCIDENTS OF ANIMALS BEING KILLED OR WOUNDED BY AIR RIFLES IS ON THE INCREASE .............................

According to figures recently published by the RSPCA air rifle attacks on animals have risen from 759 in 2011 to 906 in 2013.

C.L.A.W.S. has been involved in the aftermath of two such incidents.

Earlier in the year we took in a stray cat from the Grenfell Road area of Maidenhead. Understandably he was nervous but over time became more confident but still flinched when you ran your hand along his back.
An X-ray revealed that an air gun pellet was lodged in his spine. No remedial action was recommended by the vet as, on the whole, Toby manages well and is in no pain.

A distraught owner rang the help line to ask if C.L.A.W.S. would assist with the cost of an operation needed by her cat. It had been shot by an air rifle and a pellet was lodged in its eye. The operation would cost £750. Along with other charities in the area, C.L.A.W.S. agreed to make a contribution. She has had the stitches removed and is at home recovering. To highlight this horrific event and in attempt to bring the perpetrator to justice and prevent further such tragedies , the owner contacted the Bracknell News (she lives within its catchment area) and an article was published.

C.L.A.W.S. is deeply concerned about this shocking state of affairs. Please do all you can to bring it to the attention of those who can influence legislation and thus create a safer environment in which animals may live.


______________________________________________________________________________
C.L.A.W.S., along with other cat charities, including Cats Protection, the Cinnamon Trust and the Feline Advisory Bureau, is passionate about getting cats into care homes
.
The benefits to the owner, and other residents, have been well documented.

C.L.A.W.S. has been involved a number of levels.

Over the years we have been fortunate enough to home several cats to care homes.

We also re-homed the cat of an elderly resident (aged 100 !) when she did not feel able to look after her any longer. Who could ever forget Pudding Rebecca Louise ? She was 21 years old when we took her in and spent two wonderful years with "mum" Sara.

We have also been involved in taking into care cats whose owners went into care and were not allowed to take their beloved pet with them.

Sukey and Suzie are a case in point. Their "mum" was admitted to a home suffering from dementia and was not allowed to take them with her. Although her memory has faded she remembers them still and to this day, some 3 years on, asks after them. How much better for her (and them) if they could have stayed together ?

We hope that, besides the ones mentioned in the letter and articles attached to this piece, many other residential homes will recognise the great good achieved by allowing owners and their pets to stay together.
We should like to thank Francesca, Editor of THE CAT, for all her help and for allowing us to use the letter and articles included in this article.
See also..
GETTING CATS INTO CARE HOMES PAGE 1 THE CAT SPRING 2012
GETTING CATS INTO CARE HOMES BY JACQUI CUFF ADVOCACY MANAGER THE CAT SPRING 2013
LETTER IN THE CAT SPRING 2013