Catwork has been a sanctuary (sadly, now closed to new admissions) to care for FIV and FeLV cats, run by Barbara and Bob, for well over 20 years. C.L.A.W.S and Catwork developed a close and happy relationship during that time and two of our "rescues" are now living and thriving at Catwork

ROCKY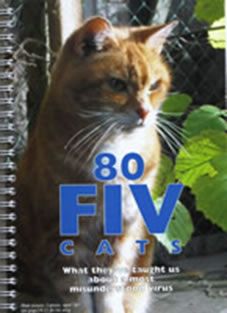 Rocky was featured as Cat of the Month for January in the CLAWS 2018 calendar. He went to Catwork in June 2017. Still suffering from his past life, he seemed pleased to have somewhere comfy to sleep. After a course of antibiotics he was well enough to be neutered and then settled well in to the sanctuary life.

SID
Sid went to Catwork in August 2017. They wondered what they had taken on when he arrived as he hissed at everything that moved - which is why they called him Sid ! However, after just a few days, he seemed to realise that he would be fed and be comfortable, and nobody would hurt him. He has turned into the sweetest, chattiest little cat ever - what a transformation!
Now Barbara and Bob are concentrating on providing information about FIV on their website, in their book and through their 1000 FIV cats project. If you need information about FIV, please visit www.FIVcats.com
FIV BOOKLET
Barbara and Bob have written a book called "80 FIV CATS : What they have taught us about a most misunderstood virus" now in its fourth edition.
FIV cats can live long lives. However it is imperative that animal rescue groups and people who take on an FIV cat have good and realistic information about the virus.
Barbara and Bob wrote this book to pass on the knowledge they have gained over many years. They hope that anyone who has dealings with, or responsibilities for, FIV cats, will read it and realise that the cats who have this virus deserve just as much help and understanding as any other rescued cat and that they should never be put down simply because they have FIV.
'1000 FIV cats' project
This ground breaking project is an extension of their book.
There are many misunderstandings about the realities of living with an FIV cat, so Barbara and Bob wanted to collect as many real-life experiences as possible. They put out a call to anyone who owns now, or has owned in the past, an FIV cat, and asked them to tell what it is really like to live with one.
Although it has taken a while, they are fast approaching their target of 1000 FIV cats, with over 900 now listed from all over the world, each with their own story and the experience of their owners, many of whom were new to the subject when they found their cat was FIV positive.
To see more details and see the cats already listed, please visit www.fivcats.org
What a fantastic achievement ! As well as caring for many hundreds of FIV / FeLV cats over the years they have made an enormous contribution to the understanding of FIV and FeLV thereby helping to dispel the myths surrounding these greatly misunderstood conditions, although much still remains to be done.