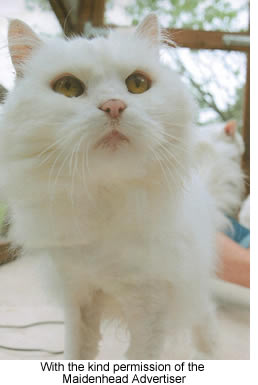 We are a small, independent charity working in the Maidenhead area of Berkshire.
2015 is a very special year for C.L.A.W.S. It's our 20th anniversary !
In 1995 Beverley and some friends decided to set up a cat rescue in the Maidenhead area to fill what they perceived to be a gap in the present arrangements for rescuing and homing stray cats and kittens.

Unlike other animal rescue organisations operating in this area that receive national funding C.L.A.W.S. receives no such backing and has to raise all the money it uses to look after the cats itself.

We rescue and re-home abandoned and stray cats and kittens. We also trap and neuter feral cats. They are either returned to their original site or placed in a more suitable location.
C.L.A.W.S. prides itself, and is well known for, the work it does with older and infirm cats. They are often the forgotten members of the feline race, abandoned in their twilight years because they require veterinary treatment or become incontinent and are no longer welcome in the homes where they have lived all their lives. Often they take longer to re-home and require more costly veterinary treatment.
To encourage older people to adopt older cats C.L.A.W.S. introduced its People for Pets Scheme. Owners are asked to pay for food and the annual booster and C.L.A.W..S. helps with the veterinary fees.
All C.L.A.W.S. cats are blood tested, neutered, vaccinated, micro-chipped, flead and wormed and come with four weeks free Pet Plan insurance.
Prospective owners are home checked before adoption and they receive either a visit or phone call six weeks later to see if any help is needed.

Every penny we receive is spent on the animals. – nothing is deducted for administration costs.

C.L.A.W.S. will never put a cat to sleep except upon veterinary advice.
IF YOU WOULD LIKE TO BECOME A VOLUNTEER OR LEARN MORE ABOUT US
PLEASE RING SUE ON 01189 341699
email info@c-l-a-w-s.org.uk