True feral cats are the offspring of stray or abandoned domestic cats. They live wild and have little contact with people. They fear humans and keep well away from them.
They are regarded as pests by some, but farmers and the owners of riding stables value their ability to keep the rodent population under control.
A healthy feral colony is more likely to reduce vermin to an acceptable level. Contrary to the widely held myth that hungry ferals make better hunters well fed ferals have proved to be more effective.
Neutering is beneficial to their health and helps to control the size of the colony. Whilst they are sedated the vet can check their health and treat them for parasites.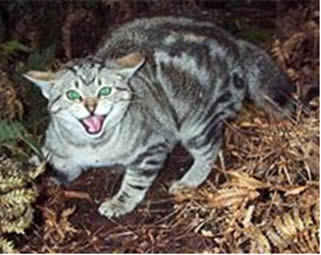 C.L.A.W.S. is one of a small number of cat charities and sanctuaries that help feral cats and does not make a charge for this service.
We go into a colony and neuter all female and male cats, We also get them checked for FIV and FeLV so we leave a healthy colony.
The word feral is bandied about indiscriminately, often being used when the cat in question is an abandoned domestic.
There is a worrying trend : organisations responsible for placing "feral" cats on farms and at stables have, in fact, been placing abandoned domestic there.
ZIVA is a good example of this. Placed at a stables to help control the rodent population C.L.A.W.S. was contacted when she was badly injured. She was hospitalised, underwent major surgery and, with the consent of the stable manager, was released into C.L.A.W.S. care. At this time she weighed only 1.9 kilos.
Over the last 6 years she has made good progress.
In September 2019 with the deaths of Daisy and Dilly there were vacancies in the Divas' pen (somehow we can't break the habit of calling it that and in any event feel it is a fitting way to remember them.)
On a bright sunny morning we took Ziva, along with Tula, from the pen of six and released them into their new enclosure. As always there was a volunteer on hand in case of trouble but it was a peaceful change over.
Minstrel viewed the new comers with a certain degree of reserve and Tina, of course, was in her usual spot – on the roof of the cat cabin !
Tula and Ziva both opted to take refuge on the roof of the other cabin. We were greatly amused to see dear Ziva, who is a tiny little tot, on her back in the guttering – she was a perfect fit ! It gave her a bird's eye view of the birds !!!!
It wasn't long before she ventured down– her favourite "hobby" is chasing, and catching, creepy crawlies.
She is doing well. She has made friends with Tula and allows us to stroke her very gently. She enjoys playing often rolling over on her back and kicking her legs in the air.
She has gained in confidence and comes running up to the fence to say Hello. Some days she still hides away but the rustle of the treats' bag soon brings her out again.
She will never adjust to a normal domestic environment so she will stay with C.L.A.W.S.
This is another instance of a cat placed as a feral that should not have been.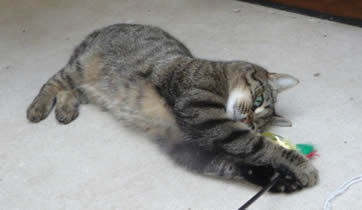 ZIVA

Is this a photo of a feral cat ?
Now the challenge is to prevent this happening to other abandoned domestics.