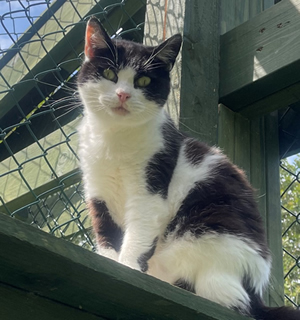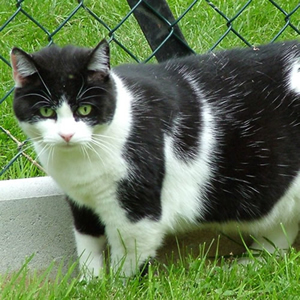 Rosie
ROSIE
is about 12 years old and had had a very sad life, 8 years of which were spent living in a shed. Her owner fed her but did not allow her in the house.
When the owner died a gentleman who lived in a nearby property offered her a home but she does not like other cats and therefore did not get on with the resident cat. So once again she was "out in the cold".


She was trapped and C.L.A.W.S. was asked to take her in. What could we do but say "Yes"
She had been deeply traumatised by her treatment and sat behind her bed in her cat cabin refusing any human contact. Then she started to peer through the cat flap and eventually ventured out into the pen itself.

Sadly she still refuses any human contact but now she is in the new enclosure she has freedom and fresh air and other cats to interact with. She also climbs up and down the steps so she can admire the view. This has helped her lose weight as she was a bit on the tubby side.

The combination of her new home and companions has cheered her up ad at least she doesn't run away and hide every time someone approaches the enclosure !