C.L.A.W.S. takes in cats of all ages and increasingly is being asked to find new homes for 14, 15, 16 and even 19 year olds. These "golden oldies" are looking for a loving home where they can spend the rest of their lives in peace and quiet.
This scheme was introduced to enable the elderly or those on a restricted income to adopt an older cat. It is good for the person, possibly living alone, who gets a loving companion and a new focus in life, and the cat that gets a devoted friend with lots of time to spend with it. As one participant in the scheme said "We're two golden oldies" together.
The owner pays for the food and annual booster and C.L.A.W.S. helps with any veterinary expenses that might occur, the most significant reason that prevents people on a fixed income adopting an older cat
DIPSEY.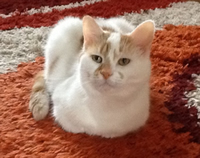 DIPSEY led a happy and settled life until she was 14 when her owner died and she became homeless.
She was taken in by a local cat charity and transferred to a fosterer. Very slowly she began to improve. Her fosterer moved to a property where animals were not allowed so once again Dipsey was adrift.
In June 2016 she came to C.L.A.W.S. After a shaky start she formed a bond with her carer and we were hopeful she was on the road to recovery. Sadly she did not maintain this improvement and gradually became very unhappy sitting hunched in her bed only leaving it to eat and use her litter tray.

We took her to the vet and, after extensive tests, she was found to be physically fit.
We were convinced that with a peaceful domestic environment (no children or other animals) and an owner who had the time, patience and skill to devote to her she would become a happy, loving girl and a good companion.

After an intensive campaign we found a home that we thought would suit Dipsey – but there was a concern : a little dog but he was very docile and friendly. We all agreed to proceed and Dipsey went to her new home. Sadly within a week we received a call from her new "mum" saying that Dipsey hated her dog. He became very upset so there was no option but to bring her back into care.

She was a worry because, although she showed a marked physical improvement once a heart condition had been diagnosed and treatment started, she was still depressed. Then a series of events occurred which marked a turning point for her.

The first was very sad – dear PENGUIN had to be put to sleep. His fosterer was devastated and grieved for him. However she felt that the best way to remember him was by offering a loving home to another needy cat. She came over to meet our cats that were looking for a home. After several more visits and a lot of heart searching she decided that Dipsey was the one for her !

She took her home and the next day she was on the phone to say that Dipsey had spent hours sniffing round her new territory and within 24 hours she was on sofa next to her and purring her head off. She still didn't want to be stroked but was relaxed and happy.

The next bulletin was even better – she was sitting on her "mum" with her paws on her shoulders, head butting her and purring for England. She was also allowing her to stroke her and tickle her behind her ears ! Wow ! And all this after only 10 days in her new home.

Each day she revealed another facet of her character. Her "mum" describes her as a flower unfolding – what an evocative phrase !

Two years down the line and in her 18th year Dipsey is a loving, sweet natured cat. We had always been convinced that this was the case but it is wonderful to have our instincts confirmed.
To say that we are delighted is an understatement !

PEBBLES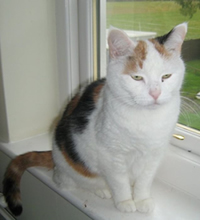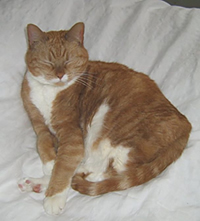 Pebbles Ginny
Pebbles and her daughter, Ginny, then about 12 and 11 years old respectively, came to C.L.A.W.S in 2013. . They were rescued when the police were called to their owner's house by concerned neighbours and sadly found her dead.

Both were successfully re-homed and Ginny remains with her original owner to this day.
In June 2016 we were once again asked to take Pebbles into care when her owner's health deteriorated, in particular her sight, which made it difficult for her to look after her.

We took her to the vet for a check up and she was given a clean bill of health, except for her teeth ! She had a dental and was then ready to be re-homed.

Would we be able to find a home for this sweet natured golden oldie ? A supporter of ours was looking for a companion so we introduced her to Pebbles and they took to each other straightaway.
When we took her to her new home she had a good look round and then spotted a comfy bed, hopped into it and went to sleep.

Towards the end of 2018 her owner became concerned about Pebbles's health and got in touch with C.L.A.W.S. We took her to Alma Vets for a thorough examination. A series of tests revealed that she was hyperthyroid and was in the early stages of renal disease.

She was given tablets for the hyperthyroidism and currently we are trying to find a specialised renal food that she likes !

At first she had to go for check-ups every two weeks but at the last visit the vet said she didn't want to see her for another two months.

Now in her 18th year she is responding well to the treatment – long may it continue.
TIA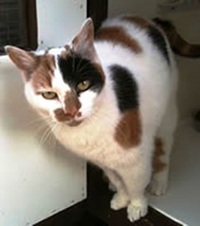 TIA started to urinate outside her litter tray including on beds and members of the family.
Visits to the family vet over a number of years failed to identify the problem.
After she came into care her records were transferred to the C.L.A.W.S. vet and the first thing he noticed was that, even though she had a bladder problem, no urinary test had been done. This omission was rectified and revealed crystals in her urine. Such crystals are normally smooth but these were covered in sharp little spikes, not unlike tiny replicas of the medieval weapon known as a mace.
Although the cause had been removed with a course of the correct antibiotics the symptoms remained as the crystals had scoured the wall of her bladder thus making her need to go to the loo frequently.
Her fosterer was told that it could take up to a year for her bladder to return to normal. She was placed on medication and her condition has improved until now she needs only one tablet a day to keep her dry.
Once her medical condition was under control we started looking for a quiet home for her, suitable for her gentle nature. We felt she would make an ideal companion for an older person.
Despite our best efforts time went by and she remained with us – but then two of our volunteers got in touch to say that one of their neighbours was looking for an older cat so they arranged to bring her along to meet TIA. They got on well and two days later the lady rang to say she wanted to offer TIA a home.
That was 2 ½ years ago. She is well and happy and she and her mum are devoted to each other.
Another happy ending !