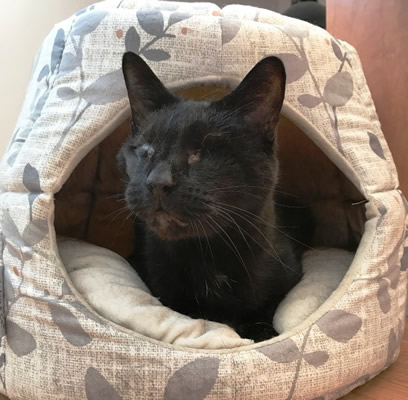 Deano
The phone rang – it was Caroline, a community nurse. A patient of hers had died leaving her cat homeless. Cathy thought it was elderly and not very well. At present it was being fed by a neighbour but the house would soon be closed up.

What would happen to him then ? Could C.L.A.W.S. help ? I told her we were full but I would see if we could "squeeze him in"

In the meantime I asked her to contact the next of kin and obtain from them permission for the cat to come into C.L.A.W.S.' care. We would also require it to be taken to our vets for a health check for which we would pay. She was a client of Alma's so undertook to organise that.

We decided with a bit of "shuffling" we could find room for it and the next of kin came back with their permission in no time at all ! Caroline arranged to meet the neighbour who was feeding the cat on the following Monday afternoon to catch it (hopefully !) and take it straight down to Alma. We alerted Alma so there would be a vet ready to examine the cat.

All went according to plan. Its records had been transferred from its previous vet which revealed he (it was a male called DEANO ) had had one eye removed in the summer of 2016 as it was infected and that the other one had burst later in the year leaving the cat blind.

Its general health was good. He stayed at Alma for a few days under observation which gave us time to re-organise accommodation at the sanctuary and then we brought him home. We put him in the library but it soon became apparent that this was not an ideal place for him. It was too large and had too many places where he could hide and was noisy as it adjoined the kitchen which is always busy.

More re-arranging followed and he is now happily settled in a small room upstairs, the layout is much simpler and it is quiet and cosy for him. He soon responded to this change of environment and, although still shy, began to respond to his carers.

We became increasingly concerned about the eye that had "exploded" as it looked "angry" so when he went to the vet for his second vaccination we asked the vet to check it out. After an extensive examination and in depth discussion it was decided to remove the eye as he has no sight in it and it was a possible source of infection. That was done at the beginning of November and he came through the op well and made a good recovery.

He went for his final check up recently. His vet was pleased with him remarking how well he looked, his coat gleaming with health and how relaxed he was. He has become quite a chatterbox. The vet who operated on him also came to see him and was equally pleased. She picked him up and was delighted when he cuddled into her arms and went to sleep ! "My cat doesn't do that" she exclaimed. He also needs some dental work done but that will wait until December.

He is still a little underweight so remains on a special diet for elderly cats.