First of all, many congratulations to CLAWS on completing 25 years rescuing cats from desperate situations and caring for them. Secondly heartfelt thanks to Bev, Sue and colleagues from Abbey, Sheila and myself for looking after Abbey for four years before we connected and she came to live with us.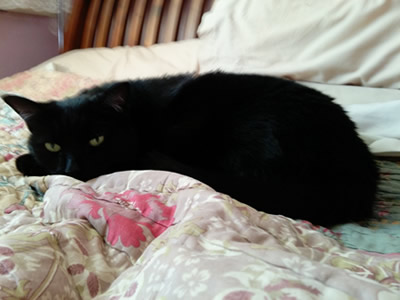 Abbey is a delight (pictured above relaxing on the bed in early 2019) and has made enormous progress in the last two years. We spotted her in September 2017 on the CLAWS website – she was 'Cat Of The Month'. We knew that she was five years old and had spent four of those years with CLAWS having been rescued with thirteen others from a house. She deserved a chance and we felt that we could give it to her. Fortunately for us, Bev agreed (after a home visit) and we began to visit Abbey at CLAWS.

Over the next month (we had some commitments which meant that we couldn't take her sooner) we visited Abbey at CLAWS once a week. Each time Abbey laid in her bed at the back of her pen and we approached with some Dreamie treats. Mostly she accepted them quietly but with good grace. I was rewarded with a hiss on a couple of occasions. This was going to be interesting but we had shared our home with cats for the last thirty years so were confident that with patience this was going to work for all three of us.
On October 16th 2017 the great day arrived and we collected Abbey from CLAWS. Once home we restricted Abbey to the ground floor of the house for the first week so as not to overwhelm her. The first four days Abbey mostly spent hiding securely under an armchair with occasional forays to thoroughly investigate her new surroundings. She quickly located and used the tray and tucked into the food (we continue to give the same food provided at CLAWS supplemented by some cod every day which Abbey loves). After one week we gave her access to the whole house which she absolutely loves.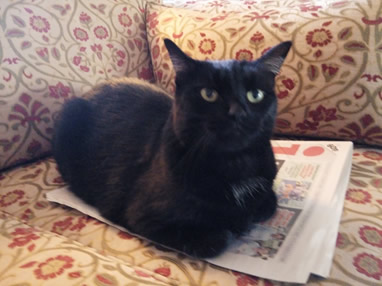 Initially, Abbey kept her distance from us but wasn't hiding, just confirming that we were on her side. We let her approach us in her own time and it has really paid off. From the start we were struck by her spirit and bravery. She was unphased by the domestic appliances which she hadn't encountered before and was actually quite interested in the television (which she continues to watch on occasion). The only thing which she couldn't fathom was the mirror on the bedroom wall which she spotted herself in and was convinced that an intruder had appeared. We removed the mirror. Over the last two years Abbey has made great progress and is an affectionate companion. Not a lap-sitter (maybe she never will be?) but she loves to be stroked and has proven to be a good communicator (it's always clear when new food is required or your participation in a game is requested)
.
Abbey is an indoor cat and (although we are very careful with doors and windows) she shows no desire to join the world outside her house. She is however a keen observer of the outside world either through the French windows or from one of the window sills. Abbey is particularly fond of the front bedroom sill which apart from sitting above a radiator also has the attraction of a large family of sparrows usually nesting in the eaves of the house next door. Very strong and athletic, she likes to run up the two flights of stairs in the house and is quite enthusiastic about ball games. These can be played on her own or she might co-opt one of us to join in.
Abbey is a joy to share the house with and clearly regards the two of us as family. So well done CLAWS for giving her the opportunity to arrive at her forever home. She really does seem very happy with many comfortable years ahead.
Finally, an unexpected connection with CLAWS tied in with Abbey's story. On telling a friend of sixty years (an old school friend) about Abbey we were informed that her cats had also come to her via CLAWS. Pauline lives in south Hertfordshire but in 1995 had adopted two cats (ginger twins aged three months).

My wife and I had known Sam and Ben (formerly Bruno and Tyson) throughout their lives. Both had happy comfortable lives and made it to twenty years of age. Another success for CLAWS going right back to the start up years.

Chris Whittington